The Benefits of Walking One Hour a day Five Days a Week
Strange as it may seem, walking is not everyone's cup of tea. Yet there are many benefits from walking that you should seriously consider doing this as an easy option to help to either reduce your weight or to keep your weight within your recommended guidelines.
Fast walking ONE hour a day 5 DAYS A WEEK
Walking is a great way for easy weight loss. They say you should take around 10,000 steps a day if you want to get the weight off. This will obviously depend on the amount of food that you eat each day, and also what you eat.
For a rough guide, you will lose 1 pound of weight for every 3,500 calories you burn beyond what you consume in a day.
It is a fact that the more you weigh, the more you will burn when walking for an hour. So a person who weighs 125 pounds burns 240 calories walking for an hour at 3.5 mph, but a person who weighs 185 pounds person will burn around 356 calories in an hour.
Walking An Hour a Day Benefits
Walking is a cheap and easy way to look after yourself. It is also one of those sports were you do not have to pay much to do it, and it is done anytime and anywhere that you are.
So there really is no excuse that you could not get to the gym to burn the calories. We are very lucky in were we live. Across the road from us is the entrance to a forest.
We can take a walk through the forest for well over an hour getting the best of both worlds at no extra cost. An hours walk is as good as 30 minutes running. The benefits of walking are far more impressive than running.
walking is easy
walking burns calories
you can walk anywhere
walking costs nothing
walking benefits are very high
Running
running burns more calories
running is for the younger generation
running hurts
running causes more injuries
running costs money
Walking v Running
Walking is great when you start to get injuries from running. I took up walking over 15 years ago (about 35 years young) and have never looked back. I tried training for a marathon about 5 years ago and gave up as the legs just had too many difficulties to handle.
I have never had an injury from walking and can count on one hand the number of injuries I have had in the last 30 years.
Running is great when you are young and your legs are used to it. You are slim and your body can cope with the constant pounding it takes from driving the legs into the ground over and over again.
With walking, you do not get this problem. As you get older you put weight on. I see hundreds of people every year out running trying to lose weight. The age ranges from 18 years to 65 years.
If you are just overweight and you are serious about losing the weight you might make it. But unfortunately, most of the people I see are middle-aged men who go out running once or twice a week for 3 or 4 miles thinking that this will be enough to get the weight off.
They stand no chance. In fact, they would be better off walking on a daily basis than running twice a week.
For most of these people that effort is about as much as they can muster, and unfortunately, it is nowhere near enough. An average working male consumes between 2200 and 2800 calories a day, maybe higher depending on how you start your day.
If you start the day with a coffee before you get the train you are looking at around 200 calories a cup with sugar.
If you start with a Starbucks latte or any coffee shop latte or cappuccino you are looking at around 320 calories. This does not include what you had for breakfast. Add a croissant to it and we are now at 500 calories.
The day is long and during the working day, most people tend to snack. Another coffee or two, a couple of teas, crisps, chocolate bars, biscuits and more, and this is before we have had lunch.
If you are a McDonalds or Kentucky fan you have serious problems. Not just because of the quality of food that you eat, the fact is that most of us who use these places tend to use the regular.
Not only is the food unhealthy most of the time, but it is also full of salt and those dreaded empty calories. Empty calories are food that contains very little nutrition. All it actually does is fill you up.
What the body does not burn at the time, it then stores as FAT. So each meal you consume from any of the regular quick fill places will leave you with a certain excess amount of wasted food, and a high degree of unburned calories which then turn to fat.
This all builds up to help you towards the big H. To many calories from empty food will give you a few things to think about.
To help you to burn those excess calories each and every day without going to the gym add walking to your routine. If you would rather do it before work then tries and do it in the morning.
Walk to the next several bus stops before getting on the bus. Walk to work. Get off the bus a couple of stops early. Try and squeeze in 10,000 steps a day, and to add to this try and change your diet so that it fits in with your routine. You really do need to combine both to make it work.
Go to your local sports store and buy yourself a decent pedometer. You can attach it to your shorts, trousers, jeans or whatever and count the steps that you do. It really is a great incentive to get you out walking.
Start a diary and make notes of how many steps you are taking each day. This will encourage you to try and keep a weekly and monthly record of what you do. Once you achieve this consider starting to look at what you eat.
Take a look at the labels on the containers and try to take in 5 a day as recommended. You will be surprised at what you can actually eat in a day AND still lose weight.
Walking at Home – Video – 23 MILLION VIEWS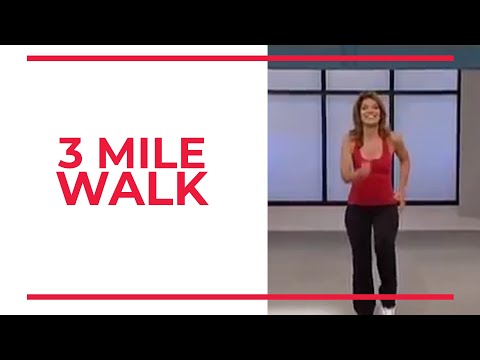 Other Great Walking Questions
Is Walking 1 Hour a Day Enough to Lose Weight?
That will all depend on how much food you consume each day, and how often you exercise each day. Ideally, you should aim to lose 1 to 2 pounds of fat each week according to the National Heart Lung and Blood Institute.
This translates to about 8 to 16 pounds in two months. Walking at a pace of 3.5 miles per hour for 30 minutes a 155-pound person can burn about 149 calories or 298 calories in one hour.
Adults with weight-loss goals should dedicate at least 300 minutes to medium-intensity aerobic exercise every week. Don't feel overwhelmed by this number; an hour-long walk five days per week is enough to bring you to 300 total minutes of walking by the end of the week.
Can I Lose Weight Just by Walking Every Day?
The simple answer lies in how much food you consume each day, and how much exercise you also do. If you eat a lot of food each day and do very little exercise you will GAIn weight rather than lose it.
If you add 30 minutes of brisk walking to your daily routine you could burn about 150 more calories a day. Of course the more you walk and the quicker your pace the more calories you'll burn. However, balance is important. … So keep walking but make sure you also eat a healthy balanced diet.
How Many Hours a Week Should You Walk to Lose Weight?
Try and walk as often as you can and am minimum of at least ONE HOUR each day. Aim for a brisk walk of 30 to 90 minutes most days of the week for weight loss. You can walk more on some days and less on others but the total time for the week should be at least 150 minutes (2.5 hours).
Can You Lose Belly Fat by Walking?
The best way to burn belly fat is to follow the 12 hour method of food management. Try and have your last meal around 6pm, followed by only light drinks after this. Then when you get up in the morning try not to eat for as long as you possibly can. This way the body will tuck into your fat reserves to get its energy. This could well be your belly fat.
While any exercise can burn calories brisk walking for 45 minutes mobilizes the body to dip into fat reserves and burn stored fat. It is especially good for burning internal belly fat called visceral fat that not only contributes to your waistline but also raises your risks for diabetes and heart disease.
How Can I Drop 10 Pounds in a Week?
Go running every day and eat small amounts of food each day. Stop eating at 7 pm at night and do not eat again until around 11 am the next day. When you wake in the morning go for a ONE hour walk before you do anything else. Take a cup of tea if you wish but make sure there is no sugar.
There is no easy solution to lose so much weight in one week unless you are REALLY Obese. It is much easier to lose lots of weight when you have a lot to get rid of, than it is when you are trying to get a few pounds off the scales.
Is One Hour Walking a Good Workout?
An hour of brisk walking done every day and combined with a decent diet is more beneficial than no workout at all and will help you to keep the calories down. If you walk for an hour on more than one occasion each day this will certainly help to burn fat, and will definitely be a good workout for anyone over the age of 50.
Can You Get in Shape by Walking?
No amount of walking will help you get in shape unless you have a well-balanced diet and you exercise on a daily basis. Getting into shape takes effort and a well-proven routine of daily exercise and a balanced diet.
Is It OK to Walk Every Day?
Yes, as long as you are fit enough to walk. The general guidelines are that 30 minutes or more of walking every day at a speed of between five and eight kilometres per hour can improve health. And studies show that even when people don't quite manage to walk for the recommended 30 minutes a day the benefits can still accrue.
How can I lose 30 pounds quickly?
How to Lose 20 Pounds of Fat in 30 Days (Without Doing Any Exercise)Rule #1: Avoid "white" carbohydrates. … Rule #2: Eat the same few meals over and over again. … Proteins: … Legumes: … Vegetables: … Rule #3: Don't drink calories. … Rule #4: Take one day off per week. … Want to Become Superhuman?
How Can I Lose 20 Pounds in 30 days?
How to Lose 20 Pounds as Fast as PossibleCount Calories. It may sound like a no-brainer but counting calories is one of the easiest and most effective ways to start losing weight fast. … Drink More Water. … Increase Your Protein Intake. … Cut Your Carb Consumption. … Start Lifting Weights. … Eat More Fiber. … Set a Sleep Schedule. … Stay Accountable.More items…•Aug 13 2018
What does 1 hour of walking do?
Improve Walking Speed A 155-pound person burns 298 calories at 3.5 mph 334 calories at 4 mph and 372 calories at the brisk pace of 4.5 mph. Walking one hour daily this translates into 2.6 pounds per month at 3.5 mph 2.9 pounds per month at 4 mph and 3.2 pounds per month at 4.5 mph.May 14 2019
Is walking 5 miles a day good?
A 5-mile walk at a 2 mph pace takes 2 1/2 hours so you will burn 630 calories if you weigh 200 lbs. and 475 calories if you're 150. … person walking five miles at 2 mph five days a week will burn 3150 calories or just under 1 lb. A 150-lb.
Is walking better than running?
Walking can provide a lot of the same benefits of running. But running burns nearly double the number of calories as walking. For example for someone who's 160 pounds running at 5 miles per hour (mph) burns 606 calories. … If your goal is to lose weight running is a better choice than walking.Sep 24 2018
Can you get a flat stomach by walking?
Regular brisk walking can help you lose weight effectively. In fact walking is the best way to flatten your belly fat even without dieting. … So try to walk more and sit less if you want a flat tummy.Sep 13 2017
Will walking an hour a day tone my legs?
Well according to the latest health research brisk walking – yes that thing you do every day – can burn as much fat as running. … Brisk walking for 30 minutes four to six times a week will help tone your thighs firm up your bum and whittle away your waist.
What happens to your body when you walk a lot?
Excess body fat is very dangerous to your health. Walking can actually help you burn more fat it boosts your metabolism and heart rate. According to research "if you walk to lose belly fat you need to walk at a steady speed fast enough so your heart beats faster and causing you to breathe harder and deeper.Apr 19 2016
Is walking 2 hours a day good?
Walk every other day for two hours at a moderate pace. If you are new to walking aim to maintain a speed of 3.5 mph for the duration of the walk. According to Harvard Health Publishing you'll burn 596 calories in two hours of walking if you weigh 155 pounds.Jun 22 2019
Is walking enough exercise?
Four out of five experts said yes. Walking is of course better than no exercise at all but to maximise health benefits a combination of aerobic-type (running cycling swimming) and strength-type exercise (lifting weights or bodyweight exercises) should be performed regularly. … Walking brings many benefits.Apr 22 2018
Does walking reduce thigh fat?
While you will use your thighs while walking it's impossible to target just your thighs for fat burning. This concept known as spot reduction is a myth the American Council on Exercise notes. … You can burn these calories through exercise trim them via a reduced-calorie diet or a combination of the two.
Does walking make your butt bigger?
A focus point for many women in their workouts is the buttocks. At its core walking is an aerobic exercise meant for burning calories and trimming fat but it also builds the gluteus muscles making your butt bigger and firmer over time.
How can I lose tummy fat fast?
20 Effective Tips to Lose Belly Fat (Backed by Science)Eat Plenty of Soluble Fiber. … Avoid Foods That Contain Trans Fats. … Don't Drink Too Much Alcohol. … Eat a High-Protein Diet. … Reduce Your Stress Levels. … Don't Eat a Lot of Sugary Foods. … Do Aerobic Exercise (Cardio) … Cut Back on Carbs Especially Refined Carbs.More items…•Jul 12 2018
Is walking 4 km a day enough?
A brisk walk of 4 km would only take about half an hour so only around 100 maybe 120 calories burned. That's down in the noise of what your diet can do. (Skip one soft drink and you've made a bigger difference.) That's part of why it's a bad idea to exercise to lose weight.Jun 23 2016
Is walking 2 miles a day enough?
The key to weight loss is to burn more calories than you take in. Implementing an exercise program in which you walk 2 miles a day can help you lose weight by burning more calories than is usual for you. With proper gear and a good plan you can increase your metabolism and reduce body fat.
Can you lose belly fat by not eating?
Diet: There is no magic diet for belly fat. But when you lose weight on any diet belly fat usually goes first. Getting enough fiber can help. Hairston's research shows that people who eat 10 grams of soluble fiber per day — without any other diet changes — build up less visceral fat over time than others.
Can Walking get rid of love handles?
Aerobic workouts help burn calories and reduce excess fat on the body which can help slim down love handles ( 35 36). … Swimming working out on the elliptical machine or simply going for a brisk walk are all excellent ways to get into an aerobic workout routine.Jan 29 2018
Does slow walking burn fat?
Researchers found that obese people who walk at a slower pace burn more calories than when they walk at their normal pace. In addition walking at a slower 2-mile-per-hour pace reduces the stress on their knee joints by up to 25% compared with walking at a brisk 3-mile-per-hour pace.Jun 17 2005
Is walking a cardio?
Good news: Walking is good cardio exercise — if you go at a brisk pace of at least 3 miles per hour. Cardio or aerobic exercise works your large muscles over and over and pushes your heart and lungs to work hard. Over time this makes your heart stronger — it's a muscle after all — and more efficient.Jun 14 2016
How do I start walking everyday?
Walking Schedule for the Absolute BeginnerWeek 1: Start with a daily 15-minute walk at an easy pace. … Week 2: Add five minutes a day so you are walking for 20 minutes five days a week. … Week 3: Add five minutes a day so you are walking for 25 minutes five days a week.More items…•May 5 2019
Which time is best for walking morning or evening?
Afternoon Walking and ExerciseFor most people body temperature and hormone levels peak at 6 p.m. Exercising three hours before or after the peak will give you your best workout for both effort and building muscle.Research shows lung function is best at 4 p.m. to 5 p.m.Muscles are warm and flexible.More items…
Can you lose 5 pounds in a week?
While it's easy to be swayed by fad diets quick promises and cleanses it is actually possible to lose 5 pounds in two weeks through healthy eating and exercise. … I'm more liberal on calorie amounts or exercise recommendations. To lose 5 pounds it's more about cleaning up the diet than making a drastic overhaul.Sep 2 2015
How can I lose 5 lbs in 2 weeks?
14 Tricks to Drop Up to 5 Pounds in a WeekTrack your diet. Westend61Getty Images. … Focus on plants. … Cut back on soda. … 4. Make super small food swaps. … Go ahead: eat your largest meal at night. … Get your protein from lean food sources. … Pair protein with sweets. … Opt for carbs with higher fiber content.More items…•Dec 5 2018
Is 800 calories a day safe?
A low-calorie diet is one that restricts your intake to 1200 to 1600 calories per day for men and 1000 to 1200 calories per day for women. Some people go on a very low-calorie diet for rapid weight loss often consuming only 800 calories a day.Jun 22 2016
How long should you walk a day to lose belly fat?
This stored fat is exactly what you want to lose and it's a good reason to build up your walking endurance so you can walk for more than 30 minutes at a time. Walk most days of the week for at least 30 minutes to burn an extra 1000 to 3000 calories in total for the week and to improve your metabolism each day.May 6 2019
Will I lose weight if I walk everyday for 1 hour?
Ideally you should aim to lose 1 to 2 pounds of fat each week according to the National Heart Lung and Blood Institute. This translates to about 8 to 16 pounds in two months. Walking at a pace of 3.5 miles per hour for 30 minutes a 155-pound person can burn about 149 calories or 298 calories in one hour.
Is walking one hour a day enough exercise?
Aerobic fitness For many this is a brisk walk. … Walking briskly for 30 minutes five days per week can improve aerobic fitness. Each walking bout doesn't need to be long though; walking for ten minutes three times per day is as beneficial as walking for 30 minutes in one go.Aug 7 2017
Can you lose belly fat by walking?
While any exercise can burn calories brisk walking for 45 minutes mobilizes the body to dip into fat reserves and burn stored fat. It is especially good for burning internal belly fat called visceral fat that not only contributes to your waistline but also raises your risks for diabetes and heart disease.May 7 2019
What are the benefits of walking 1 hour a day?
Your heart becomes stronger and healthier Brisk walking raises your heart rate by 60-70% because while walking the muscles of your body need more oxygen and blood supply. If you make it a habit of walking for 1 hour daily the strength of your heart and its efficiency in pumping blood will increase over time.
Does walking make your thighs bigger?
If your legs are already larger than you want it is probably due to stored fat rather than muscle. … The result is unlikely to be visible as a larger muscle but rather a leaner toned muscle. If you exercise enough and watch your diet you will lose fat as you gain muscle. Overall your legs can get smaller and leaner.Jun 22 2019
How can I drop 10 pounds in a week?
A 7-Step Plan to Lose 10 Pounds in Just One WeekEat Fewer Carbs and More Lean Proteins. … Eat Whole Foods and Avoid Most Processed Junk Foods. … Reduce Your Calorie Intake by Following These Tips (See List) … Lift Weights and Try High-Intensity Interval Training. … Be Active Outside of the Gym. … Intermittent Fasting Is Another Simple Way to Reduce Weight Quickly.More items…•Sep 27 2016
How can I lose 30 pounds quickly?
How to Lose 20 Pounds of Fat in 30 Days (Without Doing Any Exercise)Rule #1: Avoid "white" carbohydrates. … Rule #2: Eat the same few meals over and over again. … Proteins: … Legumes: … Vegetables: … Rule #3: Don't drink calories. … Rule #4: Take one day off per week. … Want to Become Superhuman?