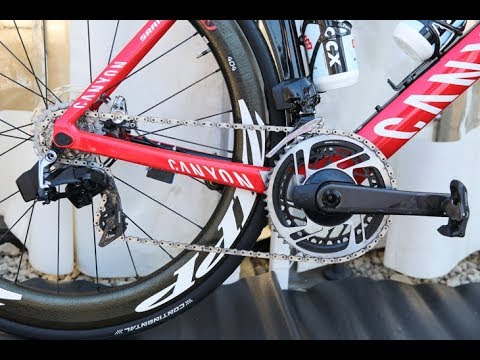 The 2019 road racing season may be all but over, but things are still heating up on the tech front. Spotted at the Saitama Criterium in Japan were early samples of SRAM's revamped 2019 SRAM Red eTap wireless road groupset, and there's a lot to see:
New 12-speed cassette
One-piece machined aluminum double chainring
Updated lever ergonomics
Clutched rear derailleur
12 sprockets and downsized chainrings
The biggest news by far is that SRAM is joining Campagnolo on the 12-speed cassette train. But whereas Campagnolo has concentrated on tightening up the gaps between each ratio, SRAM is going for more total range by utilizing a 10T small sprocket. One tooth may not sound like much, but it's a big deal in terms of percentages. Whereas a current Red 11-28T cassette comprises a 255% range, the new 10-28T boosts that to 280% (which is more than what you get out of an 11-30T).
To accommodate that 10T sprocket, SRAM will finally implement on a wide basis the XDr freehub body that was quietly introduced in 2017. XDr is similar to the XD body that SRAM uses for its 12-speed Eagle mountain bike cassettes, but with a 1.8mm-wider format (Eagle's huge inner sprockets can be cantilevered out over the drive side spoke flange, which isn't possible with a road-sized cassette).
Thankfully, the total body width is shared with other modern freehub standards, so hub compatibility shouldn't be a big issue.
To save you the trouble of counting sprockets or teeth, SRAM has conveniently laser-etched the specs right on the back of the new 12-speed 2019 Red eTap cassette. Photo: Kei Tsuji.
It's worth mentioning at this point that SRAM has not officially confirmed nor denied that there is an official SRAM Red eTap 12 Speed Groupset on its way. Any of this and all of the above is wholly based on what can be gleaned from available images of sponsored riders' bikes out in the wild.
The post-2019 SRAM Red eTap goes 12-speed appeared first on CyclingTips.
Photos: Kei Tsuji.
Cycling is a great way to lose weight and burn fat. This is my way of keeping fit, especially throughout the summer months when being out on a gravel bike combines both fresh air and forest trails for maximum effect.
[amazon_link asins='B073S3ZDZ9,B0767Y933B,B01BZBQHTK,B00V8RZE32,B01BZBTHJ2,B00V8RZB58,B00V8RZ856,B00CLCFS3Y,B00PHVUGW4′ template='ProductGrid' store='US-1′ marketplace='US' link_id='b5e178a6-e13c-11e8-be82-ab70b45bb7a2′]
[amazon_link asins='B01BXLYEQ0,B00GB85MZI,B01N1SVXWQ,B07C63S3PL,B078WMKHF9′ template='ProductCarousel' store='US-1′ marketplace='US' link_id='a788f9c4-eca9-11e8-a097-c91334632515′]